Skip to Content
Sedation Dentistry Oakville
Relaxing in the Dentist Chair with Sedation Dentistry
If you get extremely anxious or fearful about dental visits, Bronte Oak Dental in Oakville, ON has sedation dentistry available to ease patients' worries. The sedation methods dentists use today are safe for patients and proven highly effective in calming their nerves or putting them to sleep completely. This allows a patient to comfortably get through a procedure and avoid what could be an emotionally draining experience. At our office, we emphasize keeping patients as comfortable as possible by providing service with friendly staff and in a relaxed environment. For patients whose fear and anxiety surpass the calming capabilities of conventional treatment, sedation dentistry takes the worry out of the work. We invite you to contact us if you have any questions.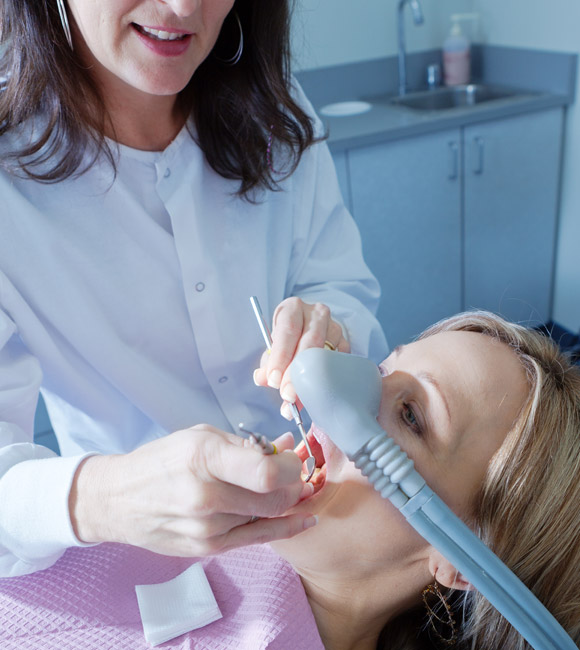 Sedation Options We Have Available
Our dental office offers multiple methods of sedation to make your visit as pleasant and comfortable as possible. Sedation makes a procedure easy for the patient, and it reduces potential complications as the dentist performs it, an example being a patient shaking or moving in the chair. The methods we use at Bronte Oak Dental cover the range of needs regarding fear and anxiety, from simple relaxation to a state of unconsciousness. For any method, a dentist will always supervise your visit.
Our Two Most Common Forms of Sedation are Nitrous Oxide and Oral Sedation
Nitrous Oxide
Also known as laughing gas, we administer this form of sedation through inhalation. Nitrous oxide is the most popular method in dentistry to treat mild or moderate anxiety. Under its effects, you'll stay relaxed and carefree during a procedure. Laughing gas is safe and effective, so patients benefit greatly from this sedation to stay comfortable and get through treatment without fear or stress. Since recovery from nitrous oxide is quick, you'll be able to resume your regular activities after the procedure.
Oral Sedation
This form of sedation uses a prescription pill that you take before your appointment. Oral sedation is incredibly common in dentistry, and it doesn't require needles or invasive techniques to administer the drug. Patients arrive for their procedure feeling completely relaxed and comfortable, which remains through treatment. After recovering from the effects, you can continue your normal life. This ingestible method of sedation is also safe to use and highly effective at treating fear and anxiety.
Receive Dental Care Without Anxiety
Don't let fear and anxiety keep you from getting the dental care you need for a healthy and beautiful smile. The oral care providers at Bronte Oak Dental make sure we treat your comfort as well as your condition. With our options for sedation dentistry, you can easily sit through your procedure to resolve any dental issues. When you're ready to relax and receive outstanding dental care from a caring and talented team, give us a call at our Oakville, ON office to schedule an appointment.
Schedule Your
Appointment Today