Skip to Content
Bronte Oak Dental is OPEN for ALL your dental works during a state of emergency, and our commitment to your health and safety remains the same.
Family Dentist Oakville – Relaxing Dental Clinic in Oakville – World Class Smiles!
Best Family Dentists Oakville
Restorative Dentistry
Replace or Repair Missing, Decayed or Broken Teeth
Keeping Kid's Teeth Healthy
Through Children's Dentistry
Creating Brilliant Smiles
Make an Appointment for Your Smile Makeover
Have Your Teeth Professionally Cleaned
And Feel the Difference
Relaxation Dentistry
Laughing Gas, Latest Technology, Tv Screens on the Celling – Relaxing Chair with Massage While Improving Your Smile.
At Bronte Oak Dental, we're here to help create the smile of your dreams. Our Oakville dentists, and our entire team of dental professionals, provide you and your family with the highest quality of general and cosmetic dentistry while promoting and preserving your best oral hygiene.
Have you ever tried searching for a Dentist near me, Best Dentist Oakville or Emergency Dentist Oakville, and been overwhelmed by the results? Bronte Oak Dental features state-of-the-art facilities, and technologies, & is headed by the highly experienced Dentist: Dr. Roya Khoshsar D.D.S. Bronte Oak Dental uses the latest dental technologies, such as Digital X rays for your added safety and comfort, intraoral camera: intraoral camera gives you a live tour in your mouth and make a visual understanding of the condition and treatment recommendations.
Our office is conveniently located in the Palermo West Oakville area with ample free parking.
When you visit Bronte Oak Dental, one of the best Dental Clinics in Oakville, you will experience all that modern dentistry has to offer, including a comprehensive list of general, restorative, and cosmetic dental care services in Oakville to meet the needs of your entire family.
Whether you need dental implants in Oakville, one of our great dental cleanings, or one of our advanced dental care services, we strive to assist each patient in achieving and maintaining long-term dental health and a beautiful smile.
We want you to be comfortable at our Dental Clinic in Oakville. We strive to be competitive in our pricing because we know how hard it is to find an affordable dentist in Oakville. Additionally, if dental anxiety is keeping you from achieving your best oral health, we offer several options for sedation dentistry. Leave your fears at home and let us help you achieve the smile of your dreams.
If You Are Looking For An Emergency Dentist In Oakville, We Are Accepting Patients For All Emergency Dental Services.
Dental Services for Refugees
If you are having a dental emergency and are eligible for the Canadian Federal Government's Interim Federal Health Program (IFHP), you may receive emergency dental service at Bronte Oak Dental and Schedule an emergency dental visit with us today by scheduling an appointment online, sending us an online message, or giving us a call.
Book an emergency dental appointment now!
Highlights of Our Dental Care Benefits
At Bronte Oak Dental, we're dedicated to offering premium dental care to adults, teens, and children throughout Oakville, ON. By visiting our dental practice, you can enjoy several benefits to your health and happiness, including the following:
Digital Tour – We'll give you a tour of your mouth using a high-definition intraoral camera.
Tooth-Coloured Fillings – Get a strong bond with a tight seal with our composite or white fillings.
Digital X-Rays – Our office uses digital x-rays for a thorough examination of your teeth that surpasses traditional methods.
Regular Cleanings – Schedule your routine dental cleaning at our practice to maintain your oral health and avoid future issues.
Mercury-Free Dentistry – Our dental office offers mercury-free dentistry for safer and more environmentally friendly dental care.
Custom Dentures – Patients with tooth loss can get custom-designed and -fabricated dentures from our caring and talented denturist.
Popular Services We Provide
The oral care services at Bronte Oak Dental cover patients' general, cosmetic, and restorative needs with friendly and compassionate staff looking out for your comfort and welfare. Some of the fantastic services we have available for your health and happiness include the following:
Children's Dentistry
Our years of providing dental care to children has developed into a smooth and relaxed experience for them. We'll ease future anxiety at the dental office through an early introduction, where we can encourage your child to keep their best smile.
Dental Plan
Regular dental visits can be a challenge for some people, especially without dental insurance. The dental plan at our office provides a way you can stay current on dental care with regular exams, cleans, and other dental needs.
Teeth Whitening
Our practice helps you keep a bright white smile with in-office procedures and custom-fitting whitening trays. We have options to fit your needs for teeth whitening.
Sedation
Our office has multiple sedation options, including oral sedation and nitrous oxide (also known as laughing gas). These common methods of sedation will relieve your anxiety so that you can relax through your procedure under a dentist's supervision.
Schedule Care for Your Smile
Bronte Oak Dental's team of oral care specialists work together with a commitment to ensuring every patient's experience exceeds their expectations.
Give us a call today to schedule an appointment for your family's dental needs.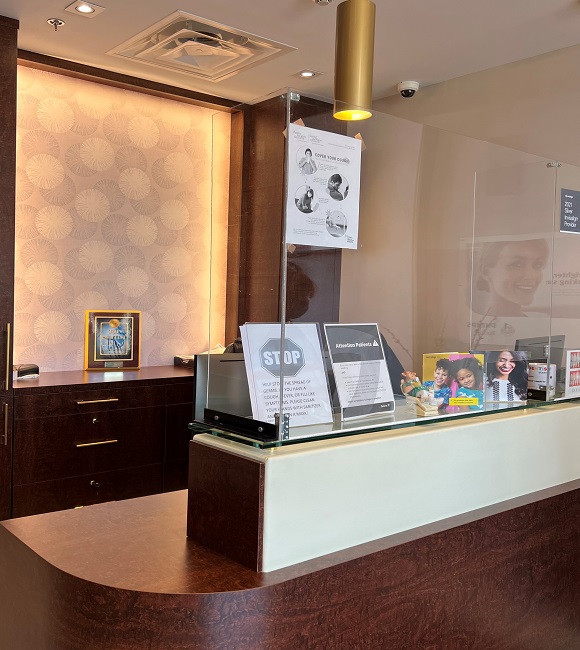 Reviews
Great experience at the dental office! Dr. Roya Khoshar was very skilled and explained everything clearly, very friendly and approachable, and always willing to help and answer questions. Would definitely recommend this place to anyone looking for a dentist for any dental procedures/cleaning.
Found Dr. Roya very professional and gentle. She made the whole experience very easy. convenient making appointment and honest about cost.
Dr. Roya Khoshsar is very considerate, honest and always makes you feel welcomed as soon as you enter her beautiful office. Dr. Roya Khoshsar is a very hard worker and does not rest until the patient is satisfied.
Bronte Oak Dental, Old Bronte Road, Oakville, ON, Canada