Skip to Content
Well-Fitting, Natural-Looking Dentures in Oakville
Replacing Missing Teeth and Slime with Confidence with Dentures
Whether it's through neglect, disease, trauma, or age, tooth loss is a dental situation Bronte Oak Dental wants to help you deal with. Our Oakville, ON practice offers custom dentures and the services you need to maintain them when you're missing several or all of your natural teeth. We make them on-site with a commitment to always producing high-quality, natural-looking dentures that are stable when you eat. Through our customized process, we create your dentures to fit precisely for a better seal and comfort. With beautiful new dentures that match the look and performance of your natural teeth, you can chew, speak, and smile confidently again.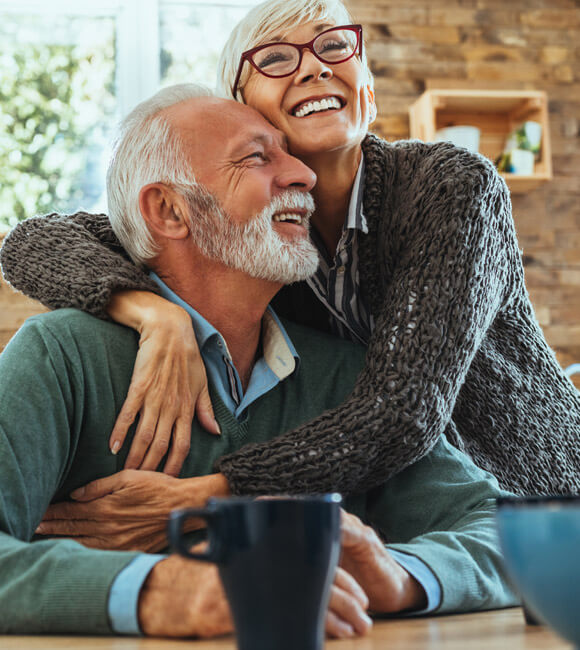 Multiple Options for Your Denture Needs
Our denturist wants you to enjoy the look, feel, and function of your dentures, which is why we offer dependable denture options and the services to support a happy, healthy daily life. Visit our office in Oakville, if you need any of the following:
Partial Dentures
When you need to replace several missing teeth, a partial denture fills in the vacancy and compensates for their loss to restore your bite and appearance. We make partials personalized to fit your mouth precisely and closely resemble your natural teeth. They stay in place using clasps that attach to the adjacent teeth, and you can rely on their strength and stability for chewing and speaking normally.
Full Dentures
For patients missing an entire upper or bottom row of teeth, full dentures restore one or both arches. They give you back the full function and appearance of your real teeth. We custom-create these dentures to have a natural look while you're wearing them, and they fit over the gums for a tight seal and dependable use.
Implant Dentures
If you want the most secure and permanent option to replace your teeth, implant dentures attach to dental implants that we anchor into your jawbone. Patients respond to their implant dentures with a high rate of satisfaction. The implant also helps to preserve your jawbone after tooth loss, and you keep a natural appearance with the carefully and artfully designed dentures.
Denture Repairs, Denture Relining, and Denture Adjustments in Oakville
Our practice performs repairs on dentures with same-day turnaround available, or we can fix them while you wait. If you have existing dentures that don't fit as they should, we also do relining to keep them comfortable. Loose-fitting dentures aren't a problem when you come to visit our office. We can make adjustments to them for a reliable fit and a tight seal.
Immediate Dentures
You don't need to wait for weeks without teeth while we fabricate your dentures. With immediate dentures, you'll leave with your new replacements on the same visit as when we extract the necessary teeth. Our dental specialists will use a digital impression of your mouth to custom-create your dentures. As soon as your teeth have been extracted, we'll have the new dentures ready to place in your mouth.
Denture Implants
The process for installing the implants is straightforward and very predictable. First, we'll need to verify that you're a good candidate for the implants. You need sufficient jawbone tissue and soft tissue to support them for a secure hold. We then surgically place the implants under the gums and into the jawbone. After a healing period when the bone grows around the implants, they'll be ready to attach to your dentures. Denture implants offer better stability than removable dentures, and they're a long-term solution to biting, speaking, and smiling without worry.
Regain Your Confidence with a Restored Smile
Bronte Oak Dental's denturist is available to solve your tooth loss problems with removable and permanent dentures, so you can enjoy a meal and chat with friends again without worry. If it's possible and deemed necessary, we'll also make house calls. Give us a call today to get started on your custom dentures.
Schedule Your
Appointment Today