Skip to Content
Invisible Teeth Aligners for Teens and Adults in Oakville
Straighten Your Teeth With Invisalign in Oakville for Better Fit and Better Comfort
Bronte Oak Dental appreciates your oral orthodontic needs for a better smile in Oakville, and Invisalign is an outstanding solution we offer for teens and adults. We create a custom treatment plan tailored for your specific dental needs. Using a series of custom-molded clear plastic aligners, the treatment gradually shifts your teeth to their correct positions. Invisalign® treatment applies to many orthodontic conditions like spacing, crowding, crossbite, underbite, and overbite.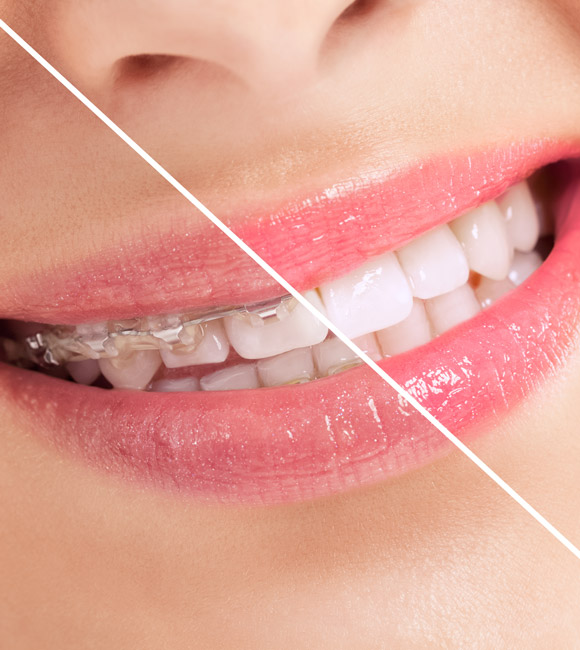 The Benefits of Invisalign® Treatment
Straightening your teeth goes beyond esthetic advantages. While a beautiful smile is a valuable trait, misalignment issues like crowding can have a detrimental effect on your oral and overall health. Misaligned teeth can make brushing and flossing more difficult and result in cavities and gum disease. Neglecting treatment for your orthodontic issues can lead to more significant and costly problems in the future, as well. Invisalign® resolves these concerns and offers benefits over traditional braces, such as the following:
Nearly Invisible Treatment
The sturdy, clear plastic aligners are nearly undetectable while you're wearing them. There's no need for unsightly metal brackets and wires. You can confidently smile and go about your day while people around you may never realize you're undergoing orthodontic treatment.
Removable Aligners
Life during treatment is much easier since you can remove the aligners to eat, brush, and for special occasions during which you want to look your best. Conventional braces are affixed to your teeth, affecting your diet and your smile. With Invisalign®, you can eat whatever you want and slip the aligners back in.
Easier to Clean Your Teeth
Because the aligners are removable, keeping your teeth clean and healthy is significantly easier. With traditional braces, people have difficulty brushing and flossing around the hardware, which can lead to cavities and gum disease. Invisalign® allows you to brush and floss normally, reducing the risk of decay and other issues during treatment.
Better Comfort While You Wear Them
The aligners' smooth plastic material offers better comfort while you wear them than the brackets and wires of conventional braces. The brackets and wires can irritate your soft tissue and cause blisters. With Invisalign®, the only discomfort you may experience is mild soreness from your teeth gradually moving.
Fewer Dental Visits
While carrying out your Invisalign treatment plan, you require fewer visits to your dentist than traditional braces. This reduction in checkups and adjustments makes Invisalign® more convenient regarding time, making less of an impact on the schedules of adults and teens.
Discreet Treatment with Excellent Results
Let our orthodontic care specialists help you with your dental alignment issues. With Invisalign®, you can get the straight, beautiful smile you deserve and avoid oral health problems down the road. Give us a call today to schedule an appointment and take advantage of nearly invisible orthodontic care.
Schedule Your
Appointment Today